Warsaw (Polish: Warszawa) is the capital of Poland and, with 1.7 million inhabitants, its largest city. It is located roughly equidistant from the Baltic Sea in the North, and the Carpathian Mountains in the South. As is the case with most major cities, Warsaw is situated on the banks of a river. Vistula, (Polish: Wisla), which runs roughly North – South, divides the city into two historically distinct areas: the left bank, usually called Warszawa and the right one, called Praga.
Historically, the right bank was the first one to become populated, during the 9th or 10th century. However, the present city's central district, called Śródmieście lies on the left bank. The Old Town is fully contained within the borders of the city center.
The central point of the city is located at the intersection of Al. Jerozolimskie and ul. Marszałkowska, near the entrance to the Metro Centrum subway station. It is good to know that the Palace of Culture is a landmark visible from almost any location in Warsaw. Should you ever get lost in the city, just walk toward the Palace of Culture and Science.
The quarter delimited by Al. Jerozolimskie, ul. Marszałkowska, al. Jana Pawła II, and ul. Świętokrzyska, contains Dworzec Centralny, the main railway station, and the Palace of Culture and Science.
Warsaw has a continental climate, with warm summers, crisp, sunny autumns and cold winters. Summers can vary from mild to quite hot. Travellers should bring light, summer clothes for the day, and an extra jacket for evenings, as they can sometimes get a little chilly. The main tourist season of Warsaw falls between May and September, from the middle of spring until the beginning of autumn, when the climate is at its most favourable. Although rainfall is generally evenly spread throughout the year, July does tend to be the wettest month according to weather statistics. Travellers would best be advised to bring heavy, water-resistant shoes with them when travelling in Warsaw in late autumn to early spring. The weather in winter varies, but it can get cold and very snowy. From December to March, the climate is at its coldest and overnight frosty weather becomes commonplace, along with some snow. The coolest months are January and February with temperatures falling a couple of degrees below zero.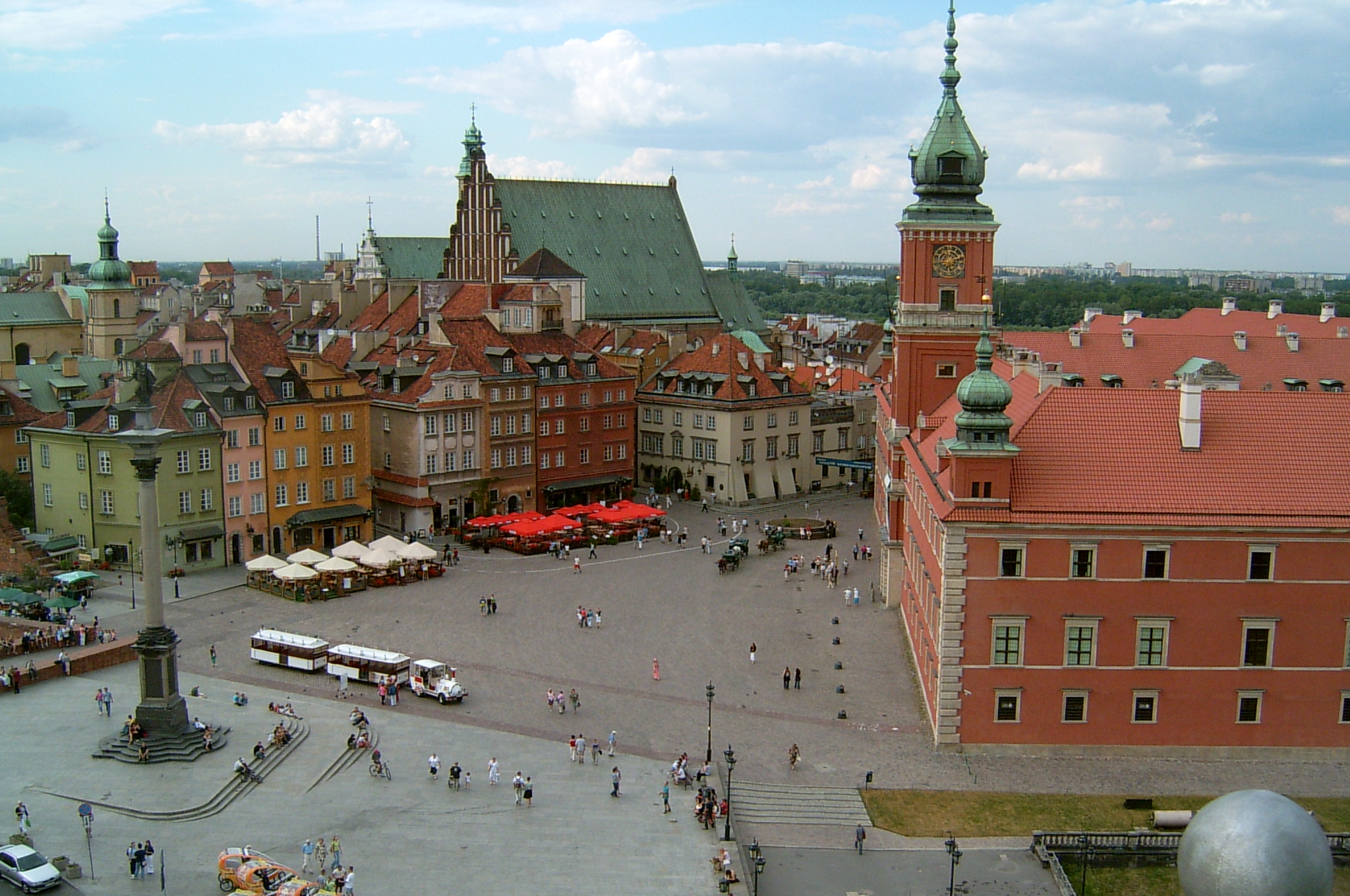 By plane
Warsaw is served by a total of two airports: Chopin Airport (WAW) for major airlines. Modlin Airport (WMI) was opened in July 2012 and it handles the low cost traffic. Łódź Airport (LCJ) is also conveniently accessible from Warsaw.
By train
Warsaw has
three stations
for long-distance trains:
Dworzec Centralny or Warszawa Centralna (Warsaw Central) ul. Emilii Plater
Dworzec Wschodni or Warszawa Wschodnia (Warsaw East) between ul. Kijowska and ul. Lubelska (on the right bank)
Dworzec Zachodni or Warszawa Zachodnia (Warsaw West) Al. Jerozolimskie near Rondo Zesłańców Syberyjskich
Dworzec Centralny (Warszawa Centralna) station is located just a couple of hundred meters from Hotel Westin. All long-distance trains pass through this station and all stop there. It is the only long-distance station underground. It isn't the last station on the route!
Trains running eastwards start at Warszawa Zachodnia, stop at Warszawa Centralna and then at Warszawa Wschodnia, while trains heading westwards make the same trip in the opposite direction (except that they don't always stop at Warszawa Zachodnia). The same is true for arriving trains. Tourists often find it confusing that the main train station (Warszawa Centralna) is not the last station on the route.
The Berlin-Warszawa Express runs from Berlin to Warsaw daily and is quite inexpensive if booked in advance. It's a fairly comfortable six hour trip. Schedule are available on Intercity's website and tickets can be booked through Polrail Service or on the Deutsche Bahn website.
One train per day runs to Kaunas and Vilnius in Lithuania, with a change of trains near the border.
There are also trains to Russia – Moscow, Saint Petersburg and even direct cars to Belarus – Minsk and Ukraine – Kiev. There are many direct connections to central and western European cities too.
By car
From Warsaw Chopin Airport
From the airport car park, turn left on the main street called Żwirki i Wigury. Continue straight along this road past a lot of parks on the right side until you reach a major intersection with traffic lights. This should be Wawelska street. Continue straight making your way into right lane until you came to a major street, there is a roundabout and an overpass, a major set of traffic lights and tram lines. This is Aleje Jerozolimskie and is one of the biggest streets in Warsaw. Turn right. Once on Jerozolimskie, continue straight till you reach the Central Railway Station on your left. Turn left into Aleja Jana Pawła II and continue straight, cross traffic lights and you will see the Westin Warsaw hotel. It is not allowed to turn left to the hotel, so you will have go straight and turn back on the cross with Ogrodowa street or Aleja Solidarnosci.
From North
From Gdansk (Poland), travel south on Route E77. You will pass the main cities of Elbląg, Ostróda, Mława and Płońsk, before arriving in Warsaw.
From South
From Kudowa (Poland), travel north on Route E57. Pass the main cities of Kłodzko and Wrocław before arriving in Warsaw.
From East
From Terespol (Poland), travel west on Route E30. You will pass the main cities of Biała-Podlaska, Siedlce, Minsk Mazowiecki before arriving in Warsaw.
From West
From Frankfurt (Germany) or Słubice (Poland), take Route E30. Pass the main cities of Poznań and Września. The road then changes to the A2. You will pass by Konin and the road changes to the E30 and goes through Kutno to Warsaw.