Instructors TO BE ANNOUNCED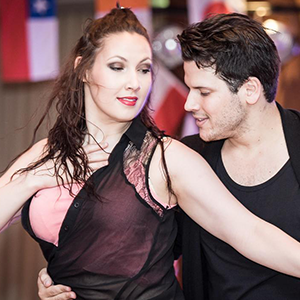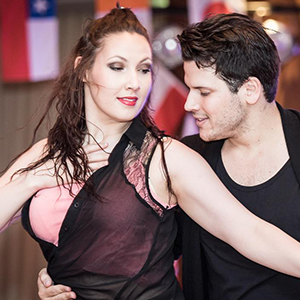 Maxence Martin & Virginie Grondin (FRANCE)
Virginie Grondin is one of the best West Coast Swing dancers in Europe right now, and she is progressively proving herself in the United States. In particular, she won the UK Open and the Midland Swing Open in 2010. She placed in the Champions division at three of the biggest american events : Boogie By the Bay (San Francisco), Madjam (Washington) and Swing Diego (San Diego).
Virginie began her dance training when she was only five years old. Beginning with the rock'n'roll and the Boogie, she moved to individual dances, like modern jazz, classical and contemporary dance. She studied in the National Superior Dance Conservatory and succeeded in the technical final examination. She discovered West Coast Swing in 2007 and since, she's growing very quickly in the community, thanks to her previous training and her natural talent for this dance.
Maxence Martin, a former Champion and Black belt in Judo, he started his career in dancing with Lindy Hop. He soon he fell in love with WCS and started his training in 2007 alongside the Best dancers in California. In less than a year he became a contestant in the "Champions" category in the USA. Maxence is now the only French dancer to have won the title of Champion in West Coast Swing..
He recently won the Best International Award at the 2011 Westie Awards Nominations. He performed his two first routines at the US Open, partnering with the famous Kelese Key (Texas). Maxence is an exceptional dancer and one of the most touching and appreciated of his generation.
He now travels the world to share his knowledge and passion for this dance. His unique style of teaching is infectious and enthuses you to want to learn more!
Check them out here….
Maxence Martin & Virginie Grondin Show Baltic Swing 2015
and if you still haven't had enough...
Maxence Martin & Virginie Grondin - 2014 US Open Classic Division
Semion & Maria (RUS)
We are super excited to introduce……
Maria and Semion have been dance partners for about four years.
Semion has been dancing ever since he was eight. He started with ballroom dancing first, then got into social dancing, and finally into West Coast Swing. He is known for his musicality and great connection with his partners.
Maria has been dancing since 2007. In 2008 she fell in love with social partner dances. She started learning hustle/discofox and salsa. She had been dancing hustle and discofox for 4 years, working on her solo choreography as well when West Coast Swing came in to her dancing life. After that she couldn't stop dancing WCS. She enjoys the versatility of the dance, bringing new emotions, options for musicality and styling to every dance.
Semion and Maria were the first Russians to ever get to US Open Classic finals in both 2016 and 2017. Their partnership emphasizes musicality and connection. They love the possibilities for communication and dialogue between partners during every dance, and seek to help their students discover this incredibly fun aspect of WCS. They share a philosophy that care and attention are the best things partners can give to each other during any dance.
Check them out here:
Semion & Maria - US Open 2017 Classic
… and if you still haven't had enough…
Jakub & Emeline (Czech/France)
We are pleased to welcome for the first time to Warsaw Halloween Swing two AMAZING and well known Champion dancers Jakub Jakoubek & Emeline Rochefeuille!
Natively from Czech Republic & Reunion Island, Jakub and Em took their first steps into the dance world at the age of 16 and 12, both starting with Ballroom Dancing (Latin, Standard & line-dancing). They were both hooked since they discovered West Coast Swing, and were especially drawn to the creativity, musicality, and freedom within the dance.
Their dance world is shaped around multiple influences such as urban dances, contemporary, modern, zouk or contact improvisation; both being eager to learn and assimilate new tools from other dance forms to expand their library of movement, expression and ways to connect.
J'Em story began in June 2016, as they were hired together by pure chance in a styling workshop run by Adam and Rita in Budapest. They have been traveling the world together ever since, flying from country to country to share their passion for dancing.
After 3 consecutive years being part of the top 10 finalists at the US Open Swing Dance Championships, they just placed 4th in the Classic Division in November 2019.
Check them out here:
J'Em - Jakub & Emeline - Strong
… and here…
Jakub Jakoubek & Emeline Rochefeuille "Ocean" - Routine - Budafest 2020
Karin Kakun has been dancing all her life. She holds a university dance degree and has now taught dance for more than 14 years. She teaches
WCS, Hip-Hop, stretching, pole dance. She also choreograph and performs. Before starting dancing WCS, she was the Israeli salsa
champion.
Karin started her WCS career in 2014 and from the first moment she fell in love. She is now competing both in All Star and Champion divisions and
teaching in Israel, where she directs a West Coast Swing line of classes.
She actively travels and teaches all around Europe.
Rolf Hegrand discovered West Coast Swing online in late 2015 in Norway. Since taking his first West Coast Swing class in 2016, Rolf quickly rose up
the ranks. He has been teaching the dance since 2017 while working full time in the Norwegian armed forces. As of 2020 he has been teaching the
dance full time.
Rolf was the first male WCS dancer from Norway to compete in the WSDC All-Star Division.
Together they live in Israel where they run a WCS school and WCS team that competed in the US Open.
Check them out here:
Rolf Eirik Hegrand & Karin Kakun - 1st place Strictly Open - Baltic Swing 2019
… and if you still haven't had enough…
Rolf Eirik Hegrand & Karin Kakun - ProShow - Citadel Swing 2019