Kyle & Sarah (USA)
They need no introduction...........
We are soooooooo happy to welcome this awesome couple over to Poland for the 2nd year! They have been instrumental here in Europe in spreading the West Coast Swing love and are amongst the most respected top tier of WCS professionals!
Kyle and Sarah are 5 time NASDE Champions, hold 11 US Open Titles and are 8 time Grand National Champions. As a partnership, they have been teaching, competing, performing, judging and choreographing all over the world for 12 years. They are the only couple to hold a US Open Swing Dance Championship title in both the "Showcase" and "Classic" Divisions. This innovative couple love what they do and it shows every time they step on the floor.
They have performed 24 West Coast Swing Routines all over the world and are constantly driving to evolve style while strengthening technique. Kyle and Sarah are best known for their ability to teach their innovative style while preserving the fundamental roots of West Coast Swing.
Check them out here….
and if you still haven't had enough...
Semion & Maria (RUS)
We are super excited to introduce……
Maria and Semion have been dance partners for about four years.
Semion has been dancing ever since he was eight. He started with ballroom dancing first, then got into social dancing, and finally into West Coast Swing. He is known for his musicality and great connection with his partners.
Maria has been dancing since 2007. In 2008 she fell in love with social partner dances. She started learning hustle/discofox and salsa. She had been dancing hustle and discofox for 4 years, working on her solo choreography as well when West Coast Swing came in to her dancing life. After that she couldn't stop dancing WCS. She enjoys the versatility of the dance, bringing new emotions, options for musicality and styling to every dance.
Semion and Maria were the first Russians to ever get to US Open Classic finals in both 2016 and 2017. Their partnership emphasizes musicality and connection. They love the possibilities for communication and dialogue between partners during every dance, and seek to help their students discover this incredibly fun aspect of WCS. They share a philosophy that care and attention are the best things partners can give to each other during any dance.
Check them out here:
Semion & Maria - US Open 2017 Classic
… and if you still haven't had enough…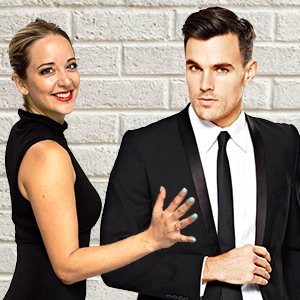 Glenn & Sonya (UK/Can)
We are pleased to welcome back to Poland two AMAZING and well known Champion dancers Glenn Ball & Sonya Dessureault!
West Coast Swing has always been part of Glenn's life in dance and he even taught one of the first ever classes in the UK over 15 years ago.
Glenn competed at the US Open in 2006 with Brandi Tobias and gained recognition for his unique style, showing a more funkier side to WCS.
In 2015, Glenn hit the WCS circuit once again rising up through the divisions winning competitions in Europe and The States. Glenn also partnered up with Patty Vo and started competing in the Showcase division. Together they took part in the US Open where Glenn became the first ever Englishman to gain top 5 in a routine division placing 3rd in Showcase. Glenn also won the Open Strictly division and co-choreographed the Go-Dance Cabaret and Swing Team which both took 2nd place in their divisions.
Glenn continues his success in Strictly and J&J competition's and was the first ever NASDE competition winner from the UK gaining 1st place in the Showcase division at numerous competitions over the last three years.
Glenn loves the improvisation and musicality within WCS and is also loving the challenge of adding his own twist into this amazing dance form.
Sonya began her career when she went to school for modern dance in her hometown of Montreal, Quebec. Afterwards, she worked professionally as a salsa and latin street dance teacher. Sonya discovered west coast swing through a crossover performance at a salsa congress.
Sonya loved the freedom of expression in west coast swing and knew she had found her dance. With her trademark intensity, she trained and quickly moved up the ranks. She took a risk and left everything she had in Montreal and went to Europe. She began by teaching at a west coast swing event and from there was invited to teach all over the continent. Sonya began a partnership with Stephen White at that time, together producing several notable and iconic showcase and classic routines.
Sonya believes all great dancing comes from learning to understand and then having fun with what you know. She's technically precise and thorough in her teaching methods and structures. She's known for her fierce commitment to personal growth in herself and others, both on and off the dance floor. Now, Sonya works full-time to empower women in partner dancing to dance free.
Check Glenn out here:
Glenn Ball & Jessica Victoria Henk - Budafest 2019
… Check Sonya out here…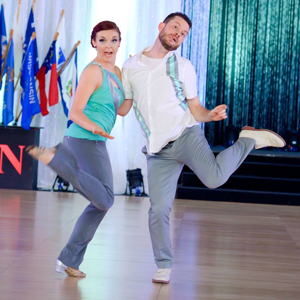 John & Alyssa (Canada/USA)
John Kirkconnell and Alyssa Marie Glanville are a dynamic, exciting partnership! They became partners five years ago and have taught all over the world. John started dancing West Coast Swing over 14 years ago and quickly became one of Canada's best dancers and instructors. All his students love his playful personality and the connection he makes with the music.
Alyssa started West Coast Swing about 9 years ago, and immediately fell in love with the dance, especially the creative aspect drawn from other dances. She uses her experience in Lindyhop, Hip Hop, Ballroom, Jazz, and Ballet to enhance her West Coast Swing. Living in the San Francisco Bay Area has also given her many opportunities to teach and grow in her own dance.
Both John and Alyssa compete on the Swing Circuit in the Champions division. Together they have traveled around North America, Europe and Asia spreading their personal love for Swing. Their partnership emphasizes musicality and connection.
Check them out here:
John Kirkconnell & Alyssa Glanville - US OPEN
… and if you still haven't had enough…