Instructors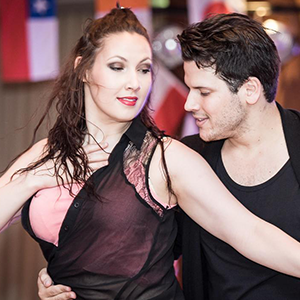 Maxence & Virginie (FRANCE)
Virginie Grondin is one of the best West Coast Swing dancers in Europe right now, and she is progressively proving herself in the United States. In particular, she won the UK Open and the Midland Swing Open in 2010. She placed in the Champions division at three of the biggest american events.
Virginie began her dance training when she was only five years old. Beginning with the rock'n'roll and the Boogie, she moved to individual dances, like modern jazz, classical and contemporary dance. She studied in the National Superior Dance Conservatory and succeeded in the technical final examination. She discovered West Coast Swing in 2007 and since, she's growing very quickly in the community, thanks to her previous training and her natural talent for this dance.
Maxence Martin, a former Champion and Black belt in Judo, he started his career in dancing with Lindy Hop. He soon he fell in love with WCS and started his training in 2007 alongside the Best dancers in California. In less than a year he became a contestant in the "Champions" category in the USA. Maxence is now the only French dancer to have won the title of Champion in West Coast Swing..
He recently won the Best International Award at the 2011 Westie Awards Nominations. He performed his two first routines at the US Open, partnering with the famous Kelese Key (Texas). Maxence is an exceptional dancer and one of the most touching and appreciated of his generation.
He now travels the world to share his knowledge and passion for this dance. His unique style of teaching is infectious and enthuses you to want to learn more!
Check them out here….
Maxence & Virginie Baltic Swing 2015
and if you still haven't had enough...
Sean & Courtney (USA)
We are super excited to introduce……
to Poland the Super fun Sean McKeever and the super talented Courtney Adair (She's fun too by the way! 😉
Sean Mckeever and Courtney Adair have been together since 2010 as both partners in life, and dance.
Within the first year of their partnership, S&C claimed a spot in the US Open Classic Finals, and have finaled for the last 6 consecutive years. In addition to a repertoire of over 10 successfully creative and competitive top 5 placing Classic routines, they hold champion titles in strictlies & Jack and Jill's throughout the NASDE circuit.
Their unique approach to group, individual, and Intensive based instruction has gained a reputation as some of the most innovative and effective movement coaching in the Swing Community.
Sean and Courtney feel blessed to be able to spend their time traveling the world and sharing their knowledge and love for dance. Above all else, they value the endless hours of late night dancing, the room parties and lifelong friendships they've gained. They are so excited to be back for the 2nd time at Warsaw Halloween Swing!!!
Check them out here:
CSC 2015 - Sean McKeever & Courtney Adair - Classic
… and if you still haven't had enough…
Diego & Jessica (Brazil)
They need no introduction, but just in case……
We are pleased to welcome back to Poland the AMAZING
Diego Borges & Jessica Pachec0!
Diego Borges has earned a degree in Physical Education from the Federal University of Ceará specializing in Dance Teaching Methodology. Jessica Pacheco is a graduate with a degree in accounting Sciences from the Federal University of Ceará.
They are pioneers in teaching West Coast Swing in South America and the first Brazilians' to win official competition in West Coast Swing. Diego & Jessica also hope to spread Zouk, one of the most widespread dances in Brazil, to the world outside. Currently, this very unique couple is traveling; teaching and spreading Zouk, and other Brazilian dances, and West Coast Swing all over the world!
As well as placing highly in The Champions & Invitational Divisions, in the last 2 years they have placed 4th and 2nd respectively in the US OPEN Showcase Division!!
Check them out here:
Diego Borges & Jessica Pacheco - Nordic WCS Championships 2015
… and if you still haven't had enough…
John & Alyssa (Canada/USA)
John Kirkconnell and Alyssa Marie Glanville are a dynamic, exciting partnership! They became partners five years ago and have taught all over the world. John started dancing West Coast Swing over 14 years ago and quickly became one of Canada's best dancers and instructors. All his students love his playful personality and the connection he makes with the music.
Alyssa started West Coast Swing about 9 years ago, and immediately fell in love with the dance, especially the creative aspect drawn from other dances. She uses her experience in Lindyhop, Hip Hop, Ballroom, Jazz, and Ballet to enhance her West Coast Swing. Living in the San Francisco Bay Area has also given her many opportunities to teach and grow in her own dance.
Both John and Alyssa compete on the Swing Circuit in the Champions division. Together they have traveled around North America, Europe and Asia spreading their personal love for Swing. Their partnership emphasizes musicality and connection.
Check them out here:
John Kirkconnell & Alyssa Glanville - US OPEN
… and if you still haven't had enough…